Roofing Shingles: Composite Vs. Asphalt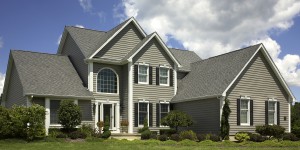 Roofing Shingles
Because of their cost and ease of installation, asphalt shingles have been a go-to roofing choice for several years. However, composite shingles are becoming increasingly popular because of their durability. While they are both widely used in construction, they are some key differences in asphalt and composite roofing.
Asphalt shingles are made of either a paper or fiberglass mat with a layer of asphalt on top. Depending on their durability ranking, they generally have a warranty of five to twenty years. Composite shingles are made up of a combination of ingredients, such as slate, laminate and wood, which improve their strength and life expectancy. Composite roofing generally has a 30 to 50 year warranty.
A big factor in durability, especially for roofing, is how the material stands up to outdoor elements. Both asphalt and composite shingles have elements in them that help resist algae growth. Composite shingles may also have a protective coating added that reduces sun damage, which can cause fading or cracking. And they are manufactured with recycled materials, helping to reduce waste. Asphalt shingles with the fiberglass backing aren't as environmentally friendly, but the shingles with paper backing are considered less harmful.
The least expensive option between the two is the asphalt shingles, which generally range between one-half to one-third the cost of the composite shingles. Composite shingles tend to last at least two to five times longer than their asphalt counterparts, so when you compare the life expectancy of the two, they are pretty equal in overall cost.
There are reasons to install both asphalt and compositing roofing. Asphalt may be a low-cost option for people who do not intend to stay in a place for long. Composite roofing may be more of a long-term investment for those who have found their forever home. Before settling on an option, contact a roofing professional, like us at A-Preferred Roofing and we can discuss your needs in more detail and offer guidance as to the best choice for your situation. Call us or click here for a free quote!