Is It Time For A Roof Replacement?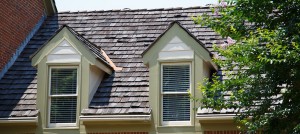 A roof replacement is no small home improvement. It's a job that takes research, the right experts and sound finances to pull it off. Luckily, we're skilled roofers and can give you some insight into whether or not your roof needs a few repairs or a full replacement. Here are some tips you can use to assess your roof before you call in the experts:
Determine The Age Of Your Roof
Depending on the type of material that your roof is made of its lifespan varies. Asphalt shingled roofs have a lifespan of about for 20 to 25 years. The same goes for cedar shake shingles, that is only if they are properly installed. Once you determine the material of your roof, find out its age and if your home's roof is pushing this limit it may be time to investigate its health, especially if you live in an area prone to strong weather conditions.
Look For Interior Warning Signs
If your roof is in need of replacement you may be able to spot signs of water damage or trails, sagging, mold growth and light penetration inside of your home. If you spot any of these signs it means that water and weather elements are wearing away at your roof. The places to look for these signs include the attic or the highest part of the interior ceiling if you don't have an attic.
Look For Exterior Warning Signs
Whether you find visible interior damage or not, it is still important to safely inspect the outside of the roof as well. Shingles that are buckling, curling or blistering are signs that they're near the end of their life expectancy. Other obvious signs to look for include balding or broken shingles, loose material around chimneys and pipes and "shingle granules" in the gutter. These granules protect the roof from UV rays and, if found in the gutters, are a clear sign of the weathering of your roof.
Call The Experts
We want to caution everyone that roof repair, replacement and even inspection is not a DIY project, it is a dangerous job that requires the skill of professionals. So whether you just need minor maintenance or replacement of the entire roof, don't hesitate to call us in! As roofing experts we can assess the health of your roof system and determine the appropriate next steps to take. Call us or click here for a quote!