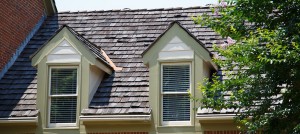 The last time you glanced at your roof, did you see missing tiles? Missing shakes or shingles? Has your living room sprung a leak? Perhaps it's time to look at new roofing costs.
There are a couple of different ways to estimate the cost of your new roof. You might want to contact a reputable roofing company to get an estimate if you're interested in comparing the cost of different materials. If you know the size of your roof and the materials you are going to use, you can get a pretty good estimate using an online roofing calculator.
Things to consider in your calculations include the size of the roof, complexity and pitch, materials, installation, permits and warranties. The size of your roof is the biggest factor in determining roofing costs. Precise measurements are important to avoid underestimating your costs.
The more lines and breaks to your roof, and the steeper the pitch, the harder will be the installation, thus increasing costs. Certain roofs require additional equipment to ensure the safety of those doing the installation.
Of course, your choice of materials will affect cost. The roof's design will also affect the choice of materials. For example, a steeply pitched roof is not appropriate to handle to weight of asphalt shingles. Climate will also be something to consider in selecting materials. Your best bet is to consult a roofing professional for recommendations.
You'll also want to include the labor required to remove an old roof. Your costs will depend on size, pitch and materials. Lastly, check to see whether there are permits required to install your roof and whether a warranty is included or extra. Labor is generally not included in a warranty.
Whether it's a new roof or you're replacing an old one, do your homework, consult a professional and ask questions! Your home is likely your biggest investment. Avoid unnecessary surprises and get an accurate estimate of roofing costs.