Asphalt Shingles: Cost Effective Roofing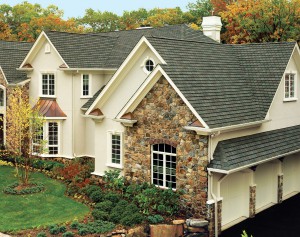 When you are in the market for a new roof installation, you have many things to consider, including the type of shingles you will use. Asphalt shingles are an option you can explore and better understanding the potential benefits can help you when making your decision.
They Are Versatile
If you are interested in a custom roof or your roof is highly irregular, this type of shingle can easily be adapted to fit your needs. It is easy to cut and shape this type of shingle to fit different angles and slopes, making it one of the most versatile shingle materials available.
Effective in Fire Protection
The highest fire rating is Class A. When you combine a fiberglass mat with asphalt shingles they achieve this rating. This helps to protect against fire spread and penetration to better guard your home.
Heavily Resistant to Heavy Winds
When you are looking into new roof installation, you have to consider a shingle's ability to survive heavy winds. Asphalt has a Class F rating, so they stand up to the job and can withstand winds of up to 110 to 130 miles per hour.
Easy to Install
Asphalt shingles are relatively easy to install, so your roofing job will take less time for professionals to complete. This means that you can get back to your regular schedule and take less time off to accommodate the roofing professionals.
Stand Up to Moisture
Snow and rain are inevitable and you want your roof to be able to protect your home and keep it dry. Asphalt shingles resist absorbing moisture so that rain and snow flow off of your roof instead of penetrating it.
You can see that asphalt shingles come with a variety of benefits. Talk to a qualified roofing contractor to make sure that using this type of shingle for your new roof installation is the right option for you.